2021 Annual Report
A LETTER FROM THE COMPANION-IN-CHARGE
Once again, the Society had an Adelynrood-closed year but certainly not a closed Society.
Chapters and Society committees met regularly, using technology. We even offered a couple of programs virtually. Companion Conference and Annual Meeting "Zoomed," each attended by almost 150 Companions and Discerners.
The revision of the SCHC Bylaws, begun in the fall in 2020, was completed through Zoom meetings. They were proposed and vetted by all Companions and finally adopted at the 2021 Annual Meeting by an almost unanimous vote—a big task with a great outcome. One major change is that membership in the Episcopal Church is no longer a membership requirement. The primary requirement is that a woman interested in membership will, as always, discern and decide her membership under the guiding hands of two seasoned Companions.
"Dare to Risk, to Love, to Act" became the perfect title for the Companion Conference that was postponed from 2020. The pandemic changed our discussion and understanding of the words dare, risk, love, and act, leading us to reflect on the challenges of life during this COVID time, and creating an especially enriching spiritual time for us.
We launched a new public SCHC website that aims to attract women who are seeking an organization like ours. Check us out on schcCompanions.org and let us know what you think. Also, in a few weeks, go to a revamped Adelynrood.org to learn about this year's programs. Perhaps you'll even register for one!
Thanks to a generous donation, another big project, replacement of the Great Cross that stands guard over our Society home, was completed. Socially distancing and wearing masks, a small group of local Companions gathered on the lawn to witness its re-dedication.
During these activities, our wonderful Adelynrood staff watched over our property and kept up the business aspects of this world-wide organization. We are so grateful for all our staff who have been the glue holding us together, keeping us in touch.
Many projects were undertaken under the supervision of our new facilities manager, Stewart Guay, who arrived shortly before a tree fell, damaging Isle of Man, one of our cottages. What a welcome!
We also welcomed a new general manager, Sarah Van Gulden, in November. Sarah lives in Rockport, where her husband is pastor of the Congregational Church. She comes to us from church work herself. In the report you can learn about Sarah from her own voice.
This is my last year as Companion-in-Charge. During this time, I hope to do some activities that I have missed—in-person visits to chapters, in-person committee and Governing Board meetings, and, of course, other summer activities. In May, we will take up life at Adelynrood again. With COVID-safety protocols in place, we will once again meet, pray, and play together. Hopefully, I'll see you there!
Peace and blessing,
Edwina M. Simpson
Companion-in-Charge
READ REPORT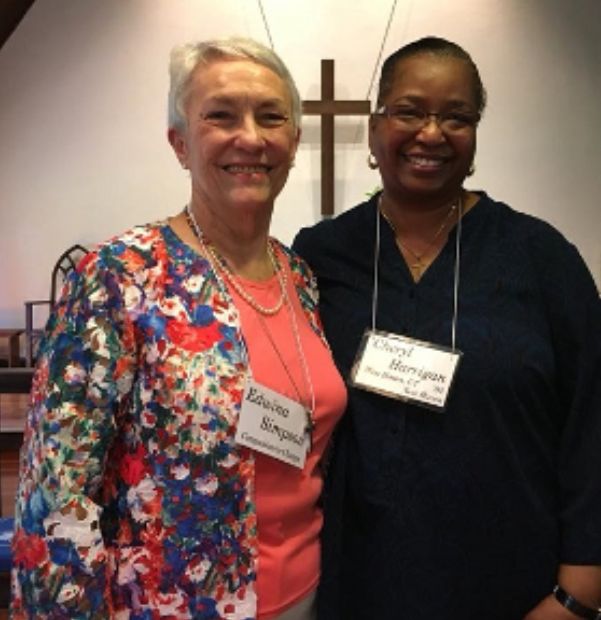 EDWINA M. SIMPSON Companion-in-Charge
CHERYL M. HARRIGAN Assistant Companion-in-Charge