2020 Annual Report
A LETTER FROM THECOMPANION-IN-CHARGE
To say that 2020 was not as expected seems a bit trite, but, for the SCHC as an organization, this year was an incredible year in spite of COVID-19.
When the year began, a number of activities were underway—revision of our bylaws was progressing. Plans for two regional conferences, one in Minneapolis and the other Maryland/DC area, as well as plans for our annual Companion Conference at Adelynrood were taking shape. Then COVID-19 hit, bringing much to a halt as we struggled with the difficult decision to not open Adelynrood for the summer. Sadness fell like a pall for a few weeks, but then Companions, Discerners, and our staff picked up and moved forward.
Virtual technology grabbed our attention. Meetings—committees, Annual Meeting with more than 150 attending, and Assembly—all took place. The regional conference planning committees re-tooled their events to a virtual format. The Midwest conference, Listening to Indigenous Voices: What Do We Need to Hear?, enlightened us to the ways the European settlers of this continent tried to desecrate the customs, spiritual practices, and ways of life of the people already living here. We also learned from their descendants about ways they are seeking to relearn and bring back their ancestors' ancient practices and spirituality today.
The Mid-Atlantic Conference, Liberating Love through Prayer and Action, helped us discover the "specks in our eyes" regarding racism that is so embedded in us. Ruby Sales, who began her fight against this plague as a young girl in Mississippi, spoke of her experience but, mostly and movingly, she spoke about the power of love.
The Companion Conference planned for 2020 will be held in 2021 with the title Courage to Risk, to Love, to Act. This, too, will be a virtual conference because we have learned that this format opens the doors to all members no matter where they are in the world.
In the meantime, Adelynrood sat empty, but not without activity. The SCHC staff set about using this time to do catch-up on projects that usually take a backseat to activities going on when Companions, Discerners, and guests gather.
Of course, for Companions, having Adelynrood closed has been sad, but we've learned that we can still pray together through virtual noonday services of intercession five days a week. We have learned how to use virtual technology to gather as chapters, and to enlighten each other in programs and meetings. Even more important, we have learned that technology and praying can go together to connect us and may even strengthen our bonds of community.
Yes, the year was not as we ever imagined, but this Society of strong women continues as a healthy, active, praying organization. For that I give thanks!
Peace and blessings,
Edwina M. Simpson
Companion-in-Charge
READ REPORT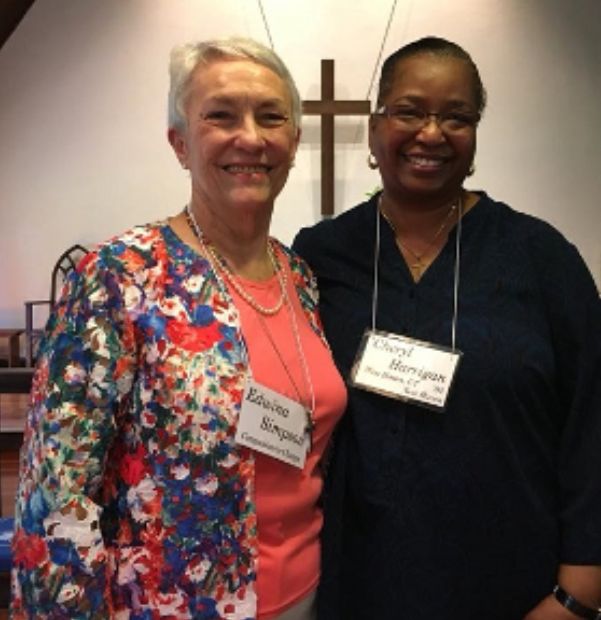 EDWINA M. SIMPSON Companion-in-Charge
CHERYL M. HARRIGAN Assistant Companion-in-Charge