Companion profile
MEET REBECCA AGNER
"Spending a day in quiet meditation and prayer, surrounded by the peace these ladies created for their guests, was complete respite for my working-mother soul."
My first experience with the Companions was peaceful, reflective and pulled out a part of me I had not seen for a while. My priest, Barbara, invited me to join the North Carolina Chapter for a Lenten Quiet Day. Barbara also happened to be a dear friend, substitute mother, next door neighbor AND a Companion. Spending that day in quiet meditation and prayer, surrounded by the peace these ladies created for their guests, was complete respite for my working-mother soul. I nearly filled up my long-neglected journal that day and left the retreat filled with God's peace.
My journey to becoming a Companion was a slow one, attending a few Chapter meetings as a visitor and learning more about the Companions. When Barbara talked with me about considering becoming a Discerner, I wasn't sure my soul was ready. She assured me that with patience, prayer and the support of my Chapter, God and I would determine if being a Companion was on my faith journey.
My husband and I both work full time and had two small children at the time, so we talked about whether this was even a possibility. Being away for most of the day one Saturday a month meant shuffling kids' activities, laundry and everything else we caught up on during the weekends.
Yet, we quickly learned that the time spent with the Companions nourished me and was truly something missing from my life.
When I became a bit overwhelmed during discernment, my sponsors were so kind and reminded me the reading and reflections were for my discernment and growth – they were not the same as my master's thesis. I think the lesson God intended for me there was to pray through it and practice living simply.
Our monthly Chapter meetings are the one day a month where I can unwind, be lovingly supported, offer support and experience prayer. The days in between are filled with intentional prayer and knowing I am a part of something so much bigger than myself. Our prayer, bound together in intention yet delivered with our own individualism, changes things.
If you're considering Companions, don't feel rushed. Attend Chapter meetings and talk with Companions. Learn about our founders and our aims. Pray and ask for God's guidance. You will know if it is in your spiritual journey.
Rebecca works in government communications, is a wife and mother and volunteers with many community organizations. In her free time, she sleeps and occasionally catches up on reality television. During the pandemic, she has found joy in growing vegetables in a small garden and catching up on a decade of reading.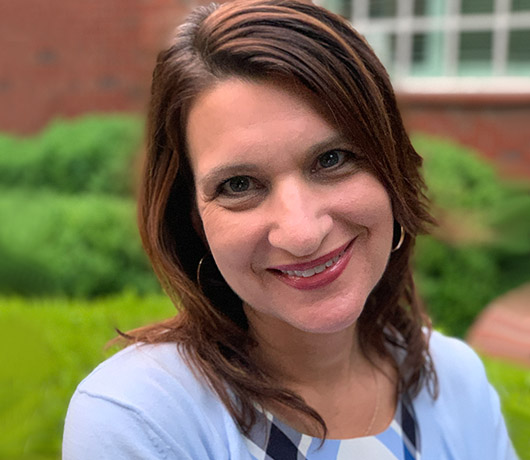 REBECCA AGNER
Companion, North Carolina Chapter
Companions share their stories
MEET OTHER COMPANIONS
Want more information?
CONTACT A COMPANION
Companions are women just like you. And, we are women not like you. That's what makes being a Companion so special. We all come together to share a common purpose of prayer, thanksgiving and simplicity of life. Tell us where you live below and a Companion from your area will contact you. We will not use your information for any other purpose.