Companion profile
MEET SARAH UPDIKE
"Companionship is a way of life that will weave itself into every aspect of your life – even if you don't intend it to!"
It all started when my church choir director invited me to attend a Companion chapter meeting. I enjoyed it so much that I went back for a second meeting and decided this was a group I wanted to be part of.
As a Discerner, I went to a "quiet day" at Adelynrood. I had been reading Emily Morgan's letters. To find myself in the place she wrote about was very powerful. During that visit I realized I really wanted to be a Companion – not just because of the lovely women in the chapter, but because I had been a Companion my entire life without knowing it.
Today, I love being with a group of women who think about, pray about and act about things that matter. I have opportunities to learn about issues and think about them in different ways. Best of all, I have a group of women to learn from and grow with.
I've become more aware of ways I can connect with social justice issues and initiatives in my workplace. Knowing I have other Companions to help me navigate the sometimes uncomfortable spaces has made me more courageous. I'm more prayerful and more satisfied with "enough." In fact, being a Companion has given me the support I need to more fully embrace the simplicity and spirituality that I always have been drawn to.
If you are a woman looking for a faith-based program that is focused on who YOU are, as a child of God, not as a mother, wife, employee, sister, daughter, etc., then the Companions is your group. If you're seeking to deepen your prayer life, discuss deep questions and wrestle with difficult issues, Companions is for you. Companionship is a way of life that will weave itself into every aspect of your life – even if you don't intend it to!
Sarah is a teambuilding specialist in the technology group of a major financial services company. When she's not dreaming up teambuilding games, she can be found knitting, crocheting or attempting to master lace-making.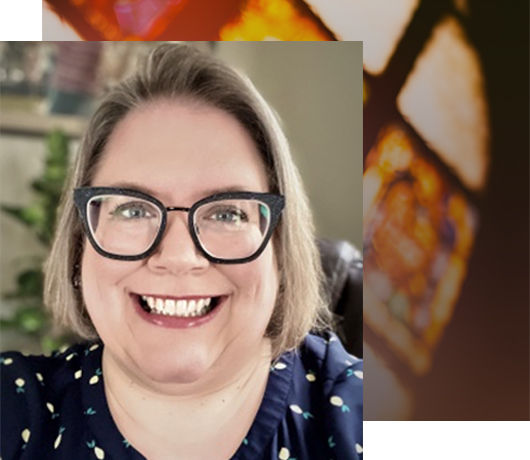 SARAH UPDIKE
Companion, North Carolina Chapter
Companions share their stories
MEET OTHER COMPANIONS
Want more information?
CONTACT A COMPANION
Companions are women just like you. And, we are women not like you. That's what makes being a Companion so special. We all come together to share a common purpose of prayer, thanksgiving and simplicity of life. Tell us where you live below and a Companion from your area will contact you. We will not use your information for any other purpose.