by Companions; Kay Hankinson, Companion, Philadelphia Chapter, editor
FROM OCTOBER 2023 INTERCESSION PAPER
Selected Prayers in Spanish and English
``Loving God, our world is on fire, literally and figuratively, from the fires and floods and earthquakes consuming trees and homes and people, to endless wars driven by greed and a thirst for power.``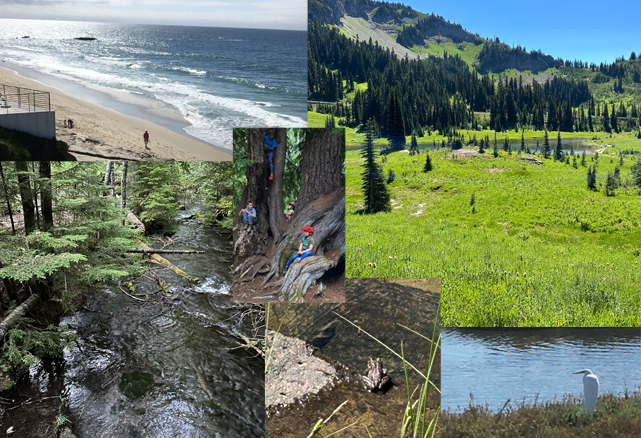 JOIN US IN PRAYER
In this regular feature of our blog, we select some prayers from the October IP, as it is called. If you're so inclined, please join Companions in reaching out in love through prayer. Oraciones en inglés y español.
COVER
Loving God, our world is on fire, literally and figuratively, from the fires and floods and earthquakes consuming trees and homes and people, to endless wars driven by greed and a thirst for power. Stir up our hearts and turn our attention to listening carefully, not only to what we want, but also to the needs and wants of others, and bring us together for our common good. In hope we pray.
Roberta Walmsley, SCHC 1982-2022
Dios amoroso, nuestro mundo está en llamas, literal y figuradamente, desde los incendios e inundaciones y terremotos que consumen árboles y hogares y personas, hasta las guerras interminables impulsadas por la codicia y la sed de poder. Conmueve nuestros corazones y vuelve nuestra atención para escuchar atentamente, no sólo lo que queremos, sino también las necesidades y deseos de los demás, y haz que nos unamos por nuestro bien común. Rezamos con esperanza.
Roberta Walmsley, SCHC 1982-2022
ACCIÓN DE GRACIAS: DOMINGO Y TODOS LOS DÍAS
THANKSGIVING: SUNDAY AND EVERY DAY
O God, who created all in your image, we thank you for the wonderful diversity of cultures in this world. Enrich our lives by ever-widening circles of community, and show us your presence in those who differ most from us, until our knowledge of your love is made perfect in our love for all your children; through Jesus Christ our Lord.
The Book of Common Prayer, p. 840
Dios, tú creaste a todos los pueblos a tu imagen: te damos gracias por la maravillosa diversidad de culturas de este mundo. Enriquece nuestras vidas con abundantes lazos de comunidad, y muéstranos tu presenciaen quienes parecen más diferentes a nosotros, hasta que nuestro conocimiento de tu amor se perfeccione en nuestro amor por todos tus hijos e hijas; por Jesucristo nuestro Señor.
El Libro de Oración Común, p. 621
SIMPLICIDAD DE LA VIDA: LUNES
SIMPLICITY OF LIFE: MONDAY
O God, help me to take the time I need for my morning prayers and spiritual reading and to include some time for writing. This time helps set the mood of simplicity for my day, which is often too busy.
Betty Lane, SCHC
Maine Chapter
Oh Dios, ayúdame a dedicar el tiempo que necesito a mis oraciones matutinas y a la lectura spiritual
y a incluir algo de tiempo para escribir. Este tiempo ayuda a crear un ambiente de sencillez para mi día, que a menudo es demasiado ajetreado.
Betty Lane, SCHC
El Capítulo de Maine
UNIDAD DEL PUEBLO DE DIOS: MARTES
UNITY OF ALL GOD'S PEOPLE: TUESDAY
Dear Heavenly Father, you call to us in many ways, helping us to understand one another and to honor our diversity. Give us clear and loving minds, and stretch our imaginations, that we may see your spirit in all humankind.
Gray Thomas, SCHC
Palmetto Chapter
Querido Padre Celestial, nos llamas de muchas maneras, ayudándonos a comprendernos unos a otros y a honrar nuestra diversidad. Danos mentes claras y amorosas, y amplía nuestra imaginación, para que podamos ver tu espíritu en toda la humanidad.
Gray Thomas, SCHC
El Capítulo de Palmetto
JUSTICIA SOCIAL: MIÉRCOLES
SOCIAL JUSTICE: WEDNESDAY
Dear Heavenly Father, I pray for all of us—humans, animals, and vegetation—who are suffering now and will suffer more in the future due to drastic climate change. We have record heat waves, rising sea levels, extreme fires, increasing numbers of climate refugees. We know that the burden of this falls unfairly on those people and nations who are poor. I pray that we humans will work together to save the beautiful world that you have given us. Please help us all to save our planet; in Jesus's name.
Kaye Okimoto, SCHC
Northwest Chapter
Querido Padre Celestial, rezo por todos nosotros -humanos, animales y vegetación- que estamos sufriendo ahora y sufriremos más en el futuro debido al drástico cambio climático. Tenemos olas de calor sin precedentes, aumento del nivel del mar, incendios extremos, aumento del número de refugiados climáticos. Sabemos que la carga de todo esto recae injustamente sobre las personas y las naciones que son pobres. Rezo para que los seres humanos trabajemos juntos para salvar el hermoso mundo que nos has dado. Por favor, ayúdanos a todos a salvar nuestro planeta; en el nombre de Jesús.
Kaye Okimoto, SCHC
El Capítulo de Noroeste
LA PAZ Y LA RECONCILIACIÓN: JUEVES
PEACE & RECONCILIATION: THURSDAY
There is an aching in our hearts, O God, for peace in a troubled world. Please grant us the grace and the courage always to live loving, forgiving, compassionate, sacred lives that are stepping stones to peace and reconciliation across our country and the whole world. The anger and violence must end, O God. May patches of peace grow through us and our prayers until sweeping fields of harmony abound. Peace, please and thank you, O God.
Joy Kiser, SCHC
Charles River Chapter
Hay un anhelo en nuestros corazones, oh Dios, de paz en un mundo turbulento. Concédenos, por favor, la gracia y el valor de vivir siempre una vida de amor, de perdón, de compasión y de santidad, que sea un peldaño hacia la paz y la reconciliación en nuestro país y en el mundo entero. La ira y la violencia deben terminar, oh Dios. Haz que los parches de paz crezcan a través de nosotros y de nuestras oraciones hasta que abunden los campos de armonía. Paz, por favor y gracias, oh Dios.
Joy Kiser, SCHC
El Capítulo del Río Charles
CRECER EN LA VIDA ESPIRITUAL: VIERNES
GROWTH IN SPIRITUAL LIFE: FRIDAY
Compassion always starts with listening. Help me to be still enough to listen to ME and what I'm feeling, so that I can be compassionate with myself. If I can't be compassionate and loving to myself, I can't be that for anyone else! Help me to truly listen and be present to what is happening inside of me, so that I can be open, loving, and understanding to others.
Trish Hanna, SCHC
Ohio/Kentucky Chapter
La compasión siempre empieza escuchando. Ayúdame a estar lo suficientemente quieto para escucharme a MÍ y lo que siento, para que pueda ser compasivo conmigo mismo. Si no puedo ser compasivo y amoroso conmigo mismo, ¡no puedo serlo con nadie más! Ayúdame a escuchar de verdad y a estar presente en lo que sucede dentro de mí, para que pueda ser abierta, cariñosa y comprensiva con los demás.
Trish Hanna, SCHC
El Capítulo de Ohio/Kentucky
ORACIONES PERSONALES Y GENERALES: SÁBADO
PRAYERS PERSONAL AND GENERAL: SATURDAY
Mary of Magdala
Woman at the tomb
Accompanied by angels
Pray for us
Like you, we experience
Joy and loss
Guide us
To the place of Resurrection
Mary of Magdala
Accompanied by angels
Pray for us
And those we name now …
Thou, who art in heaven, hallowed be thy Name …
Louise Dickson Cravens, SCHC, "Rosary"
Far & Near Chapter
María de Magdala
Mujer junto al sepulcro
Acompañada de ángeles
Ruega por nosotros
Como tú, experimentamos
Alegría y pérdida
Guíanos
Al lugar de la Resurrección
María de Magdala
Acompañada por los ángeles
Ruega por nosotros
Y por los que ahora nombramos …
Tú, que estás en los cielos, santificado sea tu Nombre …
Louise Dickson Cravens, SCHC, "Rosario"
El Capítulo Lejano y Cercano
ORACIÓN DIARIA DE LAS COMPAÑERAS
Que tu gracia, oh Señor, nos acompañe en nuestro caminar y que cada día, la alegría more en nuestros corazones. Como tú lo hiciste, que nosotras también muramos al yo, y de esa manera al pecado. Que conforme a tu voluntad, vivamos una vida más santa; que como tú amaste, nosotras amemos; como tú perdonaste, perdonemos; porque solo en la medida en que tú vives en nosotras, nosotras viviremos verdaderamente.
Janet Morgan, SCHC, 1950-1997
Paráfrasis métrica
COMPANION DAILY PRAYER
Your grace, O Lord, be with us all who walk along the way, that we may carry in our hearts your cross, with joy, each day. As you have died, may we too die, to self, and so to sin, conforming to your will for us, a holier life begin; and as you loved, so may we love, as you forgave, forgive; for only as you live in us shall we most truly live.
Janet Morgan, SCHC, 1950-1997
Metrical Paraphrase
AMÉN AMEN
Photo collage by Lynn Adams